Kaitlyn Goforth, Clairemont's wonderful intern, explores the importance of responding to your customers and maintaining a dialogue on social media.
As a PR agency, we manage social media strategies for a variety of clients.  Effective social media demands careful attention, especially for restaurants where repeat business relies on word-of-mouth reviews. When an organization posts something on social media, it bares itself to criticism, praise and everything in between. In many cases, customers can reply to posts unrestricted, making social media a proverbial minefield to navigate.
In general, restaurants can respond to a social media comment in five ways: by ignoring it, deleting it, defending themselves, issuing an apology or apologizing and offering a solution. Obviously, the last option is often the strongest strategy, but that doesn't always happen in the restaurant business. Large chains receive thousands of tweets a day, and small companies often don't have the manpower to consistently manage social media accounts. However, restaurants cannot afford to ignore social media's burgeoning clout anymore, especially with trends such as the  "eat and tweet" movement.
So what does creative conversation with a restaurant look like? To answer that question objectively, we took a look at three brands that are not Clairemont clients.
1. Chipotle – This popular "fast-casual" chain has a three-person social media team that responds to almost all social media comments individually. Joe, Rusty and Myra sign their names after they have responded to "humanize" and personalize conversation. In addition, Chipotle uses social media as a way to communicate internally and regularly congratulates employees on promotions and jobs well done. It's not just a burrito store; it's a supportive family.
2. Morton's Steakhouse – Before researching for this blog post, I had never heard of Morton's Steakhouse, despite the fact that there are locations all over the world. After reading about this great use of social media, Morton's is definitely on my radar to try. This upscale, trendy steakhouse listens to customers and fans on Twitter – and responds. Businessman Peter Shankman was boarding a plane home to New York City when he tweeted:
To Shankman's surprise, a Morton's employee was waiting for him at Newark Airport with a to-go bag full of steak, shrimp and all the fixings. Shankman immediately tweeted a photo to announce the yummy surprise.
With more than 150K followers on Twitter, this was great publicity for the Morton's since the story went viral! But more importantly, this "act of kindness" exhibited how listening and responding to customers can go a long way in the restaurant industry. Read Shankman's entire story, which he titled "The Greatest Customer Service Story Ever Told, Staring Morton's Steakhouse."
3. Starbucks – Brad Nelson, a former Starbucks barista, runs the company's twitter account, and he's knocking it out of the park. He personally responds to the majority of DMs and mentions that Starbucks receives. In October, Starbucks announced the launch of "Tweet a Coffee," a way for followers to send a five-dollar digital eGift to another Twitter user. This not only boosted social media engagement with the company, the program also encouraged customers to spread the Starbucks love while increasing sales. The coffee chain also uses humor to give their followers a giggle for the day (nothing bonds us together like a good laugh!), as seen in this recent haiku: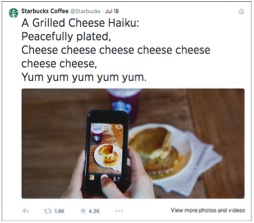 Chipotle, Morton's and Starbucks are all setting a great example about how restaurants and other similar companies can turn tepid tweeters into life-long fans.
How does your favorite restaurant use social media to engage with customers?