Our second fabulous spring intern, Miss Hope Hemby, has also completed her internship at Clairemont. While we're sad to see her go, we certainly are glad she learned so much during her time here!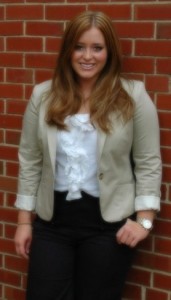 In the undergrad years, professors, advisors, parents and all of those wiser than you try to give you the best advice they can while you are still a young and impressionable college student. They nag you about studying, going to class and keeping up your GPA. They also love to constantly remind you to get "experience in your field." Advisors threaten that if you don't get an internship (or several), your resume will be a destitute, hopeless waste of paper and you will never ever be hired by anyone worth working for….And then the sky will cave in, the world will end and we will all die! But the truth is, they are right (well, mostly). It is absolutely vital to intern because you're able to learn things you like and don't like about a particular field and whether or not you want to pursue a career in the area. Not to mention that they don't look too shabby on your resume, either!
As a junior business administration major at NC State, I knew the time had come to find an internship. Little did I know that what awaited me was so much more than simply an internship. In late December 2010, internship a-hunting I did go. Thankfully, I found Clairemont Communications. When I interviewed on that fateful January day, I knew that if given the chance, I would love working with these fabulous, dog-loving ladies. And I was right!
I started my internship here at Clairemont in the beginning of February, and I have enjoyed every minute – I have a new-found love for the PR side of marketing! I have also discovered my love for writing and am thankful to have been able to put it to good use with blog postings and other fun projects. I was even able to successfully pitch a story about an important community event.
Just when things couldn't get any better, they did. In March, Clairemont took on another intern, the lovely Whitney Medlin. I had the pleasure of working with her on Wednesdays and Fridays. We collaborated on projects, chatted about our love for studying abroad in Florence and teamed up in UNC versus NCSU debates with Josie (Go Pack!).
Even though she is a Tarheel fan, another highlight of working at Clairemont has been the wonderful company of Miss Josie Butler. Working alongside her for the past few months has been such a treat. Her impressive work ethic and amazing sense of humor have greatly added to my experience here. Whether we were working hard, playing with makeup or doing funny arm exercises to 80's music, I looked forward to every day that I had the pleasure of being around her.
Last but certainly not least, the woman behind Clairemont Communications – Dana Hughens. I came to Clairemont eager to learn what it takes to successfully run an entrepreneurial venture. Whether or not she realized it, Dana showed me that and so much more. From her example, I learned that strength, patience and confidence in what you do are not only key to success in business, but in life as well. Her perseverance, innovative spirit and commitment to Clairemont are truly inspiring.
Working at Clairemont Communications has been such a wonderful experience. I am truly going to miss working with the fantastic staff and, of course, the dogs. I am certain that I have gained far more than I bargained for in an internship. I am sad to leave, but I am so thankful to have had the opportunity.