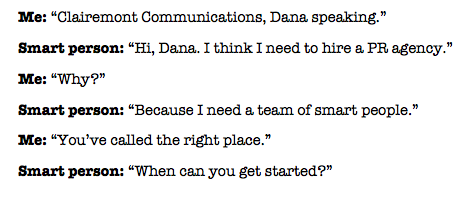 Okay, so hiring a PR agency (and getting hired) is not that simple. There are several questions you need to ask before selecting a PR firm to make sure your account team will have the right skill set, industry experience, creative chops and strategic vision that you are seeking. Last night while at my son's sports banquet, I realized that the checklist of things I typically give folks who ask "How do I hire a PR agency?" has been missing something quite important.
If you have ever attended a sports banquet, you know that other than the five seconds during which the coach recognizes your child while you eat food from a paper plate pretending not to notice that you are dining in a room where there is typically a whole lotta sweating going on, moments of high interest — let alone inspiration — can be fleeting. Last night was certainly an exception when Greg Dale, the director of sports psychology and leadership programs for Duke Athletics at Duke University, spoke.
Quickly, I realized that sportsmanship was the word that was missing from my checklist. While Greg spoke to the parents and to our children as athletes, I couldn't help but think about how his words apply to a PR agency team and how sportsmanship says so much about an agency's (or any organization's) culture. Here are my top three takeaways from Greg and how I apply them to my thinking in managing our Raleigh PR agency team at Clairemont:
Don't go to your kid's every practice. Just like how Greg explained that it is important for a kid to have his (and I use his here since I have a son) own things and parents to have their own things, the same is true for an agency team. Let the child go to practice while you go have coffee or go to book club or do work or whatever is YOUR interest. This encourages independence. I'm NOT saying that having children and managing employees is the same thing; however, I have learned some things through parenting that apply to several types of relationships. This is one. Trust me, when your name is on the door so-to-speak, the temptation to micromanage can run high. Resist. Instead insist on an environment of trust. Trust that no one needs a supervisor constantly over her shoulder and when she does need help, she will ask.
Understand your role on the bench. Did you know that Duke videos its bench throughout the season? I was so intrigued when Greg said that last night. I was more intrigued when he said they will call in younger players who have been given the privilege of a spot on the bench who then don't appear to be engaged during the game, hang their heads or appear to not be supporting the team. By doing this things, Greg said that the player is telling everybody else that he is more important than them. Wow! How many times have I seen this, and honestly, who doesn't know from personal experience what it feels like to be on the bench when you are so eager to show your coach, your team, the world (and yourself) that you are ready to take it to the hoop? The best thing you can do in this situation is to remember, it is not all about you. It's about the team. As Greg told our children last night, "You can be the sail on the ship, or you can be the anchor."
Confidence comes from within. I have a little mental exercise that I have been sharing with my teams for the past couple of years that seems to help get through the stress that often comes with working in a fast-paced, deadline-driven industry such as PR. It's called holding my own hand. Who hasn't felt overwhelmed at the onset of a new task or really big project? I like to show my teams how I will physically clasp my hands together in front of my body while I take a deep breath and tell myself that I've felt this way before, and I've always worked through it. Greg said something similar last night that I really liked and that was to talk to yourself like you would a friend or a teammate. When he coaches, he applies the three seconds rule to making a mistake. He tells his players that after a mistake has been made, count it out for three seconds and be done with it. If you are thinking about it after that, your head isn't where it needs to be. What would you say to a teammate? "It's okay. You'll make it next time. Let's go!" Embrace that language with yourself.
Why as a prospective client should you care? You need to know that each person is trusted to do his or her job. Every person on the team needs to be capable of daily responsibilities without hand-holding from the boss, and with most agencies billing at an hourly rate, this is also the most efficient and effective use of your budget. You want to know that all members of that team are in it to win it (Randy Jackson, yo!), and that the agency management team has created a culture that nurtures confidence.
My suggestion in your agency selection: Ask to meet your entire account team before you make the selection. Keep in mind that an account coordinator might not be able to answer your strategy questions, but she can tell you how she gathers research, how she'll compile your report, how she'll work with your day-to-day account manager to understand her daily tasks so that you feel confident with each person and her respective role on your proposed team.
Do you lead a PR agency or corporate team that displays exceptional sportsmanship? If so, please share your best team strengthening tip in our comments section!