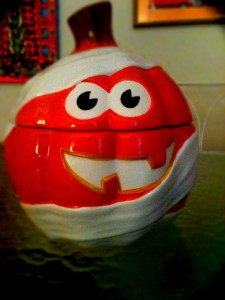 Halloween is just around the corner, and in typical fashion, I have yet to put together a costume. The good news is that because I'm running so late, I don't really have a choice but to go green with my costume this year (and you should, too)!
Did you know that 12,500 tons of used Halloween costumes end up in the landfill each year? That's why the folks over at Green Halloween® and Swap.com teamed up to start National Costume Swap Day. Hundreds of families across the country gathered to swap out old costumes for "new" ones. It's never too late to call friends and have a mini-swap day of your own.
Hoping to go even greener this Halloween? Make your costume out of recyclable materials like plastic bottles and paper products. Nearby N.C. State is hosting a recycled Halloween costume contest as part of its Campus Sustainability Day. Winners will receive special goodie packages including tickets to local concerts. Sounds like fun, eh?
Now it's your turn. Tell me your ideas. What makes for a clever Halloween costume, especially if it involves simple things you can find in your recycling bin? Share your comments below. Happy Halloween!