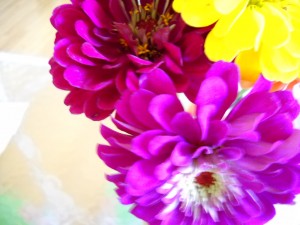 In December, Dana celebrated a very important birthday, and if you know Dana even a little bit, then you know it means she celebrated in style – with flowers! Now fast forward more than a month later….The flowers may be gone, but we're still left with a couple of shiny, translucent reminders.
Empty vases.
We all have them. Sometimes shelves full of them. But what to do with them? For today's Green Thought Thursday, I thought I would share a few green ideas on how to repurpose or kindly get rid of some of your leftover vases.
For my first few tips, I decided to give Kelly Odom of Kelly Odom Flowers a call. Dana did, after all, order her arrangements from him (and loved them). Here's what Kelly had to say:
–Recycle your vases with your florist! Kelly Odom will trade or issue credit for your returned vases.
–Donate! Kelly strongly recommended The Flower Shuttle for all of us Raleigh residents. This organization consists of more than 100 dedicated volunteers who pick up flowers after special events, weddings and funerals (after which they normally would be thrown away) and bring them to those that are living with sickness, terminal illness, poverty and disability.
If you're a crafty individual like me, check out another list of ways to repurpose a vase from the eBay Green Team. Some of my favorites are as follows:
–Create a new "arrangement." I love the idea of filling empty vases of different sizes and shapes with marbles, river stones and seashells. It would look so pretty in a window sill or on your dining room table!
–Make a mosaic. All you need is a hammer and a little plaster to create some cute mosaics for your garden.
–Pay it forward. Do you have a green thumb? Brighten your neighbor's day with a vase of fresh flowers.
Dana and I hope you will keep some of these tips in mind next time you order flowers from your florist. And should you feel so compelled to send us flowers, well, we wouldn't mind that either…