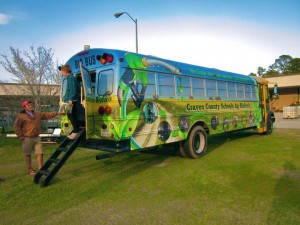 Today's Green Thought Thursday was inspired by my recent stop at West Craven High School while en route to Merchant's Millpond for a camping trip. It was there that one of my closest childhood friends, Mr. William "Moose" Shaw, allowed me aboard a very special bus – the From Farm to Fuel Tank.
It is on this bus that William travels around the state to tell students about the 'Farm to Fuels' program, where local farmers and community members are coming together to provide hands-on training to high school students in Craven County, teaching them about the benefits of biofuels, especially on a local scale.
Did you know that vegetable oil from your local McDonalds can be converted into a biofuel? And all of those winter cover crops that farmers use just for soil cover during the colder months? They can, too! William has used both to brew up his very own biofuels aboard this magic school bus. And the best part? He simply runs a hose out of the bus window and into the tank for instant refueling! Talk about being self-sufficient…
So what about biofuels? The Biofuels Center of North Carolina makes a good case.
• It's a renewable, domestic energy resource
• It's more than 300 percent fossil-fuel energy efficient than diesel
• It can be used in most diesel engines
• It can reduce global warming and tailpipe emissions
• It's nontoxic and biodegradable
• It's a good solvent for fuel line and tank sediments
And what's the larger picture? "Biodiesel reduces greenhouse gas emissions better than gasoline, ethanol, and conventional diesel, and can help shift your energy use to renewable," writes Andrew Korfhage for Green America.
So whether you're driving a car with a diesel engine or a great big yellow (and in William's case, green) school bus, consider making the switch from regular diesel to biodiesel. It's cleaner, greener and downright awesome.