Want to know the latest trends? Tune in on Trend Tuesday!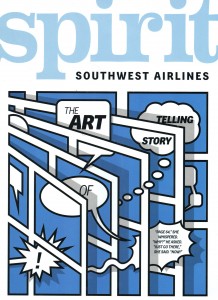 If you ask me, storytelling never went out of style. Perhaps calling it storytelling did, but let me tell you, it's baaaaaaaaack.
On my way to Orlando for the PRSA International Conference, I noticed that Spirit, the Southwest Airlines magazine, features The Art of Storytelling as this month's cover story. At the conference, master storyteller Soledad O'Brien talked about storytelling in her opening keynote. While she had several great tips (see last week's post, Interview Tips from Soledad O'Brien), I like what she said about using stats.
Take a stat and turn it into a story, Soledad said. She gave the example of a telling a story about the homeless. The average age of people living in homeless shelters is 9 years old. That stat alone is not the story. Interview three 9 year olds living in a homeless shelter and ask them how they got there — now you have an interesting story.
The day after I returned from Orlando, I was having coffee at The Morning Times with my friend and savvy communicator, Ilina Ewen. We found ourselves talking about storytelling, and Ilina said that she's been helping companies think about how they tell their stories (versus just saying what they do) for years.
Next week, I'll have the opportunity to tell one of my favorite stories, Myrtle Never Threw Away Her Postcards, at the 2011 Public Relations and Marketing Seminar on November 1, hosted by NCPRSA. I'd love to have you join me as I introduce Myrtle and share what I've learned about promises, potential and people from 80+ postcards written over the span of 50 years.  Hope to see you there! In the meantime…. tell us a story…