Well, friends, like you, we're now firmly ensconced at home, eagerly continuing to serve our wonderful clients.
With kids, families and pets now in the mix, working from home has been quite the adventure, wouldn't you say? Since we know that most of you are slinging up your own home offices, we curated a list of our favorite tips to ensure a productive workday.
Set a Schedule.
No surprise here, but structure will serve as one of your biggest secrets for home-office success, especially if you're also juggling homeschooling or other responsibilities. Avoid what some dub the "work creep" where your personal and professional time becomes enmeshed. (Anyone else have a laptop open at 8 p.m. while binge watching Tiger King?) Struggling with keeping a set schedule? Try using free time tracking tools, such as Clockify or Toggl.
Clairemont Tip: Tracy starts each day with a walk or run to get her mind and body energized for the workday.
Spruce Up Your Space.
In addition to designating your official work spot, take a few minutes to equip it with the same supplies you would have in your office (staplers, headphones, notepads, cookie jar — whatever you need!). Note, too, that atmosphere influences mood; so include a comfy chair for good posture, a nearby window for natural light, fresh flowers to add color, music for ambience (if you're a tunes kind of guy or gal). Inc.com suggests musical genres that maximize productivity. See how our Clairemont team outfitted its spaces below!
Set Expectations.
… for both your family and for yourself. Designate your official work hours as well as times you will take breaks to address needs around the house. (If possible, because we know that sometimes Fido just won't wait for his bathroom break.) Schedule breaks, and allow yourself to take them in their entireties, since research shows that breaks can boost productivity and creativity levels. I, for one, take a quick walk, phone a friend, throw in a load of laundry (not all that exciting, I know. But a girl has to have clean towels at some point).
Clairemont Tip: As part of her schedule, Kelli starts each day with a journal entry to reflect, create a positive mindset and set tasks for the day.
Maximize Your "Sweet Spot."
Track your most productive periods in the day, and schedule work around those time slots. I've found that the Rule of Threes provides value in my work schedule: I set the top three goals that must be completed each week, each day and each section of the day (morning, afternoon, etc.). While my to-do list is certainly longer than three items, those top priorities are non-negotiables that drive productivity. Others find value in free project management software to maximize time and manage work load.
Be Present and Engaged.
Hellooooo, multitaskers! While that skill can come into good use, now is a time more than ever to invest fully in each moment. Conference calls and video chats be your main — and only — form of communication with clients, partners and colleagues who are vital to your business. Show up. Prepare. Listen. Be fully present, because these moments and communication are more important than ever.
Buddy Up.
Stay connected with your team with regular group calls and one-on-one check ins. Try Skype, Webex, FaceTime, Google Hangouts — whatever works well for the group. Clairemont uses Zoom like a champ these days. And for any fellow extroverts out there, I've found it helpful to pick a virtual pal for the day — someone who doesn't mind an ongoing text chat or phone call breaks.
Clairemont Tip: Now more than ever connection is vital. Dana stays in touch with her neighbors in a creative way; each morning, she puts new motivational quotes in a sign in her yard for those passing by.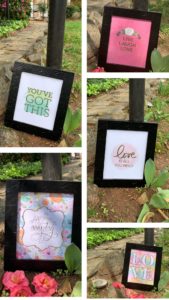 Share pics of your work space with us on Facebook!