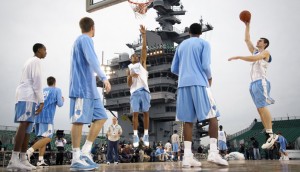 In an exciting season opener and a fitting tribute to veterans across the country, the University of North Carolina Tar Heels took on the Michigan State Spartans aboard the USS Carl Vinson, an active aircraft carrier that seven months before was the final resting place of Osama bin Laden before his body was buried at sea.
And who was the brains behind this carefully executed and wildly successful event? Let's start with Michigan State's athletic director, Mark Hollis, who dreamed up the event. After roping in Mike Whalen and his team at Morale Entertainment, an event production agency established as a "labor of love and respect to our fighting men and women," it became a reality. And a wonderful reality, at that.
You wouldn't believe the logistical undertaking this event truly was. From coordinating dates with the United States Navy (remember, the Vinson is an active aircraft carrier — it's needed at sea) to figuring out how to pay for the event (advertising, grants and a sponsorship from Quicken Loans did the trick), it took a lot of negotiating between Whalen's team and the United States Navy to pull off this whole thing.
So why do we, at Clairemont, get so excited when we talk about this event? Aside from it being a logistical challenge and my love for all things Tar Heels and Roy Williams and college basketball, this event never lost sight of the most important team there: our military.
Hosted on Veteran's Day — 11/11/11 — this event was destined to be extra special for all of the active servicemen and servicewomen aboard. For starters, it was a chance to kick back and relax and enjoy a college basketball game (not to mention it was between two great teams — never forget that fateful night on April 6, 2009). It was also a chance to interact with some of college basketball's former greats like Magic Johnson, James Worthy and one of my personal favorites, Tyler Hansbrough. Even President Barack Obama was on board for this — he couldn't miss an epic rematch between the Tar Heels and the Spartans, but he also couldn't miss being there to support our military.
My favorite quote of the evening came from Camp Pendleton Staff Sgt. Darian Washington in his interview with Julie Watson of the Associated Press. He said: "It's a bittersweet moment for me. It shows they appreciate us. We haven't been forgotten. It means a lot."
How proud we are to have witnessed such a moving event — the celebration of one of America's favorite sports with America's favorite team — the men and women who serve and protect this country each and every day.
Now we want to hear from you. What were some of your favorite highlights from the event? What do you think about the PR/marketing efforts and messaging behind all of this? Drop us a line in the comment section below.