People commonly ask us what a PR agency does. We thought the best way to answer that question would be to share case studies from our work that was recently recognized at the North Carolina chapter of the Public Relations Society of America's (NCPRSA) InSpire Awards. Clairemont won 14 InSpire Awards, and we hope that this "Award Winning Wednesday" blog series will inspire you, too!
Client: Thomasville Furniture, established in 1904 and a leading name in the home furnishings industry.
Objective:  Create a series of videos to showcase Thomasville's new furniture and upholstery at High Point Market, as well as demonstrate the versatility of the Reinventions collection, a multi-functional collection designed to maximize space in smaller homes, with the following goals:
Boost overall interactions on the Thomasville Facebook page, with special emphasis on increasing interactions among 18 to 34-year-olds by 5 percent.
Increase the number of likes on the page by 100 percent.
Execution: Commissioned research provided insights on media consumption preferences of Thomasville's existing customers and younger target consumers. Focus groups revealed that younger consumers often see Thomasville's furniture as special occasions furnishings, while they seek more of an everyday, comfortable look. Additionally, informal feedback from employees and customers indicated that previously produced videos weren't necessarily viewed as targeting a younger demographic due to the fact that the on-camera talent didn't match that desired age group.
To gain fans and keep them engaged, we provided creative content with quality videos focused on the following areas:
An Insider's View to Furniture Market: The fact that furniture market isn't open to the public didn't stop us from sharing the collections that Thomasville debuted at market with its fans. A series of videos featured team members sharing information about new collections. To reinforce the idea that Thomasville's furniture is so comfortable it makes you want to "kick up your feet," each person was interviewed relaxing in her favorite vignette in the showroom, as she offered design tips or revealed sources of decorating inspiration. Collectively, these videos received 234,764 impressions.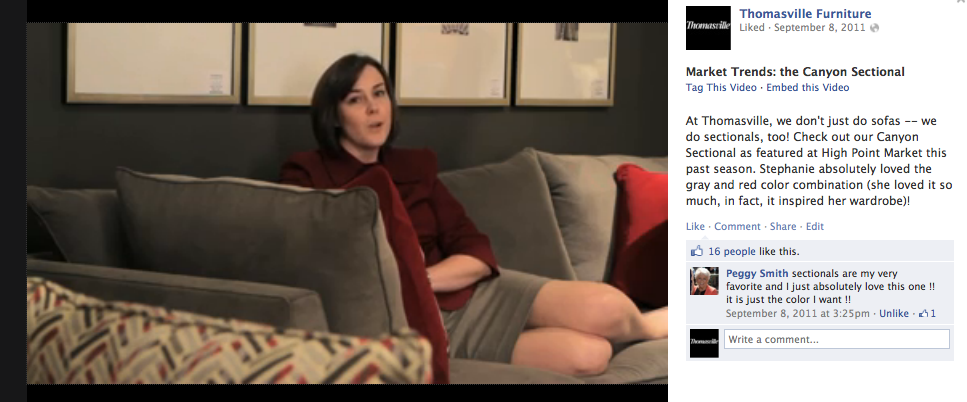 How-to Videos: A mini-series was produced to showcase Reinventions, a new, multi-functional collection designed for everyday living. These videos demonstrated how to maximize space with the versatility of the collection's pieces. For example, the Slater Mill Drop-Leaf Table can be folded down to a mere 13-inch deep sofa table or expand to a dining table to accommodate six people – ideal for city apartment living. These videos received a total of 88,055 impressions.
Results: Through our promotional efforts, including these videos, Thomasville's fan base on Facebook increased from 11,249 to 31,256, approximately a 178 percent increase from 2010. Additionally, we boosted average weekly interactions from 2,964 to 7,571, a 155 percent increase, engaging the target audiences of existing customers and young consumers alike. Specific to the videos, we received nearly 322,819 total impressions, 102 likes and 43 comments, exceeding our goals.
What did you think of this social media case study? Was it helpful? Be sure to check out our last case study featuring the Thomasville Facebook page.
Have questions? Interested in Clairemont's video production services? Drop us a line!