Our intern and social media queen Margot Horgan stumbled upon an excellent article from PR Daily and just had to share!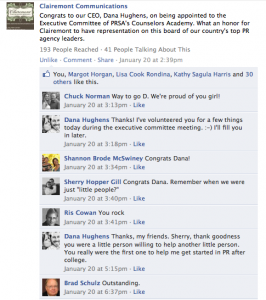 Facebook and other social media outlets are a prime place for brands to connect with and engage its customers and biggest fans. We recently read this article from PR Daily suggesting new ways to connect with your audience on your brand's Facebook page and wanted to share some of our favorites with you.
Highlight special offers and competition to your community. Often another Facebook page will stage a competition with some great prizes on offers relevant to your niche. No harm in re-sharing the link.
Stage a live Q&A on your wall with an industry expert. Giving people access to knowledge is always received well.
Aggregate fan posts. If you keep your wall "open," you might want to republish comments and content shared by your community. This will not only make the publisher feel special, but also encourage more engagement.
Highlight relevant research. Sometimes, a research report may contain a couple of great nuggets of information for your community. Identify them and share them. This is a great example of adding value by making the access to content easier.
Caption contests. Find a funny/odd/weird picture that represents your industry and look for the next caption queen or king. People love to show off their creativity, and by crowning a weekly caption champion, you'll get the community's creative juices flowing.
Let your audience peek behind the curtain. Facebook pages are all about showing your company's personality. Share staff pictures or a funny update. Don't worry, there's no harm in making your community laugh.
Share a simple solution to a problem. People are always interested in things that make their lives easier. It's a winner, trust me.
Remember, congratulate, acknowledge. The world is an ever-changing place. Positive and negative events happen every day. If an event has a particular impact on you and your business, or even if it doesn't but you are simply touched, post an update. It will show your human side.
Fill in the gap posts. Here's an example. "In 2012, I'd like to _________." Let the members of the community share their plans, thoughts comments and ideas with you. (We've had a lot of success with these on our own clients' Facebook pages!)
Welcome new staff members or say goodbye to people leaving. In doing so, you let your audience peek behind the curtain. It also shows your appreciation for new and old team members.
What do you think? Have more suggestions to add to the list? We're always looking for new and creative ways to engage with audiences via social media!