How you present yourself to the world matters.
If you brand yourself intentionally and authentically, you are much more likely to stand out and hone a positive image. While some elements of your brand are beyond your control (you can't control what people say about you, for example), you can control the passions, skills, experiences and personality traits you share with the world. And LinkedIn is the perfect platform for doing so.
In fact, LinkedIn should be the starting point when building or refining your personal brand. Read on for tips on how to make the most of this popular platform.
Managing your time: LinkedIn vs. Resumes
"What's better than the best resume? No resume." These are the wise words of Gary Kayye, a professor at UNC whom I had the pleasure of listening to at a workshop. What he meant by this scandalous phrase is that your online presence should be so strong that you don't need a resume. And LinkedIn is the perfect starting point for establishing a killer digital footprint.
According to Kayye, for every hour you spend on your resume, spend two or more on LinkedIn. First of all, most hiring managers look for candidates on LinkedIn. Second, the platform has an amazing job search function. Third, resumes have to be one page, but LinkedIn doesn't even have pages. It allows you to connect your blog posts, upload graphics you've designed, link to articles you've written and more. LinkedIn is dynamic, whereas the resume is static.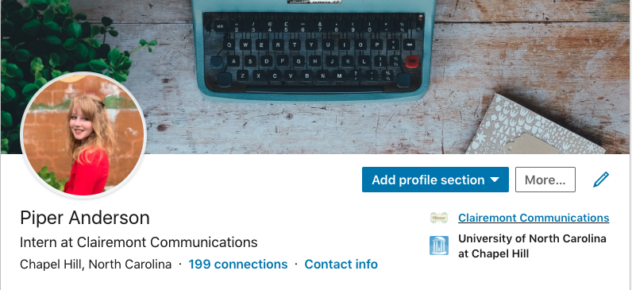 Avoid a photo faux pas
Include a photo of yourself on LinkedIn. Profiles without pictures are not taken as seriously! While it goes without saying that your LinkedIn photo should be high-quality and professional, it's also important that it is reflective of your personality. If you never wear suits, don't wear a suit in your profile picture. Looking professional doesn't necessarily require formality, especially if that's not who you are. For instance, I'm a writer, I'm creative, and I like design; so my cover photo — an aesthetic desk featuring a typewriter — encapsulates these elements of my personality. You can go on sites like Unsplash, Pixabay and Canva to find quality photos you like and re-use them for free.
Experience
For each position you list, include a detailed description. Providing a lot of information demonstrates your full range of skills, your growth and your dedication to your previous jobs. If applicable, upload or link to portfolio pieces you created in each position.
Engagement
Consistent engagement on LinkedIn keeps your profile fresh, deepens your connections and supplies you with up-to-date knowledge on your industry. To stay engaged, it is important to like and comment on posts so that LinkedIn shows you are active. Post your blogs on LinkedIn, share work you're proud of and mention seminars you've recently attended. In essence, you can't put too much information on your LinkedIn page. Follow outlets, companies and agencies that you admire. This is the equivalent of a "like" on LinkedIn. If you apply for a job at a certain organization, make sure you follow it on LinkedIn.
Connecting
Connect with as many people as possible. Don't decline invitations, unless the other person appears questionable. The more people you connect with, the more likely you are to have second-degree connections with people with whom you really want to connect. Furthermore, when sending an invitation, always add a note. If you've met the person before, mention your shared history in some way. If it is a cold invite, make sure to include in your message why you want to connect.
Recommendations
Ask a supervisor to write you a recommendation on LinkedIn. Similar to how people tend to trust product reviews by customers more than they trust advertisements, they place value in profiles that feature a thoughtful recommendation. It shows that your future success is important enough for a colleague to have taken the time to write a paragraph for you.
Just remember that LinkedIn isn't a log-in-once-a-year kind of platform. If you want it to thrive after you invest time into polishing your profile, then you need to spend at least 15 minutes on it a week. And these few minutes will be well worth your time once you score a high-profile connection or discover a great professional opportunity.
Next up, it's time to grow your professional network on other social media channels. Check out this blog on making the right connections, no matter the platform!
Piper Anderson is a recent graduate of UNC. Check out her LinkedIn here.