People commonly ask us what a PR agency does. We thought the best way to answer that question would be to share case studies from our work that was recognized last year at the North Carolina chapter of the Public Relations Society of America's (NCPRSA) InSpire Awards. Clairemont won 14 InSpire Awards, and we hope that this "Award Winning Wednesday" blog series will inspire you, too!
Client: Thomasville Furniture and Drexel Heritage
Planning: Twice a year, Furniture Brands International — a global operating company that is one of the nation's leading manufacturers and retailers of home furnishings — showcases new product introductions at High Point Market. Two of its subsidiaries, Thomasville Furniture and Drexel Heritage, hoped to stand out among the more than 2,000 exhibitors and capture the attention of the media. When the two North Carolina-based companies learned U.S. Senator Kay Hagan (D-NC) would visit their showrooms during furniture market, Clairemont Communications was hired to plan and execute a press conference.
Faced with this task and exciting news that Thomasville and Drexel Heritage were relocating the company showrooms from Thomasville to High Point, the Clairemont team identified key objectives.
Objectives: The Clairemont team aimed to do the following:
Conduct a press conference that would garner the attention of trade publications and local media, with at least five placements, including local TV coverage
Raise awareness of the Thomasville and Drexel Heritage showroom relocation and boost overall brand recognition among consumers, including engagement on the Drexel Heritage blog and Thomasville Facebook page
Execution: Faced with the challenge of capturing the attention of media, as well as the fact that Thomasville and Drexel Heritage had often been underreported at market because of their previous off-site showroom location, the Clairemont team had to get creative with positioning. Here's what we did: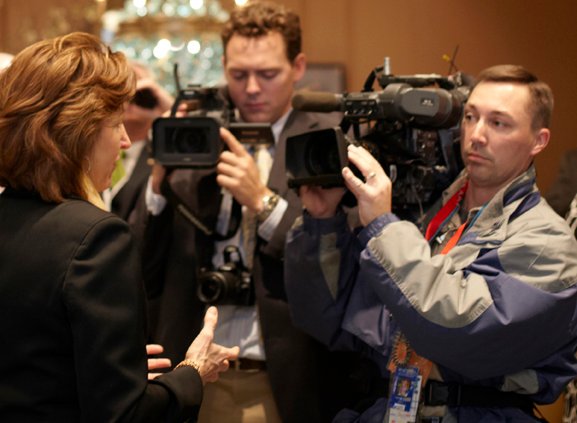 Local media:

Senator Hagan's visit to the Thomasville/Drexel showrooms was part of a larger tour of market, so why would media want to capture her tour in our showrooms? Talk of moving furniture market to another state was a controversial topic directly linked to job preservation and creation, an important platform issue of Senator Hagan. In our pitches, Clairemont focused on Thomasville and Drexel Heritage's North Carolina-based headquarters and the showroom relocations to High Point to emphasize the companies' commitment to the state's economy. We also let the media in on a little secret: we would be surprising the senator with the unveiling of the Hagan Chair, named in her honor and sure to create photo opportunities.

Trade Magazines:

Our trade pitches focused on the showroom relocations. We knew that these reporters would be less interested in state economies and more interested in why the companies moved from Thomasville to the International Home Furnishings Center, the most prestigious address in High Point. We also knew they would be interested in capturing images of the new showrooms that spanned an entire floor and part of another.

Facebook/Blog:

Even though the showrooms are closed to the public, that didn't stop us from sharing photos from the press conference and offering fans a sneak peek of the Hagan Chair.
Results: Local media and national trade publications, including News 14 Carolina, High Point Enterprise, Davidson County Dispatch, High Point Market Authority, ihfc.com and Furniture Today attended and covered the event. Clairemont exceeded the goal of five placements and successfully raised awareness of the showroom relocations. On Thomasville's Facebook page, we received 130,675 impressions and 256 daily likes and comments on our total market updates, including the press conference. On the Drexel blog, we also received positive feedback, including a comment from one of the company's top dealers.
What did you think of this public relations case study? Was it helpful? We're here to answer any questions you may have!
Interested in Clairemont's press conference services? Drop us a line!