We just can't seem to stop talking about Triangle Family Services. From the recent media successes of the Ninth Annual Gingerbread Benefit to spending time chatting with CEO Alice Lutz, the Clairemont team is always ready to jump in and help this wonderful organization, which has been serving families in crisis for nearly 75 years. And now…it's your turn to help. I have a tree-mendous challenge for you.
In the spirit of the holiday season, Durham's American Tobacco Historic District is sponsoring the Second Annual Triangle Christmas Tree Challenge. The organization invited more than 60 nonprofits to come out and decorate a tree in hopes of winning one of several prizes, ranging from $1,000 to $5,000. In addition to the all-star judging ceremony held on Dec. 18, fans have a chance to have their say, too. Be sure to head over to www.triangletreechallenge.com to cast your vote for Triangle Family Services — tree No. 59!
And what does this have to do with Green Thought Thursday? Well, just take a look!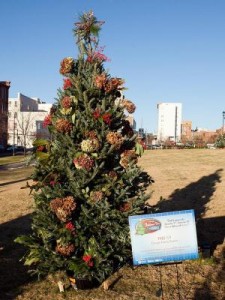 Doro Taylor, an avid TFS supporter and board member, dressed the tree with natural decorations in celebration of the organization's upcoming 75th anniversary. She wanted to use ornaments that would have been used in 1937, the year the organization was founded. The "no frills" approach, Lutz told The Herald-Sun, models Triangle Family Services' straight-forward approach to helping families in crisis.
From pinecones to berries, I never considered the fact that a tree could be made so beautiful by simply using materials from your own backyard! Once the holiday season is over, this will certainly save a lot of old decorations from going into the landfills, and the best part? There's no breakdown involved. It's a mess-free Christmas tree!
So won't you please take a moment to vote for TFS and Doro's creativity? And be sure to share ways that you use nature decorate your home for the holidays. We're all (elf) ears!