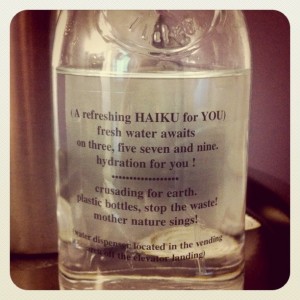 For those of you who are regular readers of our Green Thought Thursdays, you know that I typically don't pen this post, as Josie is certainly our Queen of Green. How apropos that I found inspiration while working for a few days in Asheville, her  former home!
When I check into a hotel, one of the first things I do is make sure I have drinking water in the room. That is usually in the form of bottled water. What a wonderful surprise to walk in my room at Hotel Indigo and find a water carafe complete with a haiku with "filling station" instructions. (Who doesn't love a haiku!)
Kudos to Hotel Indigo for its environmental practices! Combined with the hotel's beautiful design and comfortable bedding, I will definitely be a repeat guest. And a well hydrated one at that!