We love when good things come together for a great cause. And now more than ever, we want to celebrate the "bright spot" stories in our community.
Clairemont client Wendell Falls, the Triangle's largest master-planned community, is teaming up with acclaimed builder Garman Homes on a touching project known as the "Hero Home."
The Hero Home
Sgt. 1st Class Elis A. Barreto Ortiz sacrificed his life in service of our country in September of 2019, leaving behind his wife — Legna — and two sons. To honor his life and legacy, Garman Homes will be building his wife and children a brand new home on a lot donated by Wendell Falls. The Hero Home is created in partnership with Home Builders Association of Raleigh – Wake County and Operation Coming Home.
This Hero Home carries an additional story of a trifecta of women who are making a difference in the Triangle. Garman Homes, a woman-led and owned builder, is joining hands with Newland, the developer led locally by Tanya Matzen, to build a home for Legna, a single mother.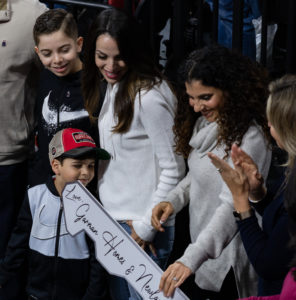 Operation Coming Home
Since the beginning of Operation Iraqi Freedom (OIF – Iraq) and Operation Enduring Freedom (OEF – Afghanistan), more than 35,000 men and women have been wounded in combat, and approximately half were so severely wounded they were not returned to duty. Operation Coming Home joins hands with willing partners like the HBA of Wake County, Garman Homes and Wendells Falls to provide some of these soldiers' most basic needs — a safe home for them and their families.
Garman Homes and Wendell Falls presented the Ortiz family with this exciting announcement at a Carolina Hurricanes' hockey game earlier this year. Wendell Falls plans to welcome the Ortiz family to its new home in October or November 2020.
Thank you to client Wendell Falls and partner Garman Homes for making a difference in our community.
Have a "bright spot stories" we can celebrate? Share on Facebook!
Photos courtesy of Summit Exposure.