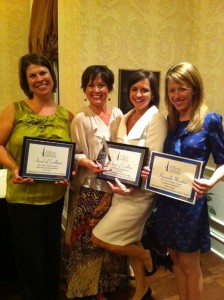 Great news everyone – the 2011 NCPRSA InSpire Awards ceremony was a great success!
For those of you who read my previous blog, you know that I was rather nervous about attending the InSpire Awards dinner Wednesday night – it was, after all, my very first time attending. But after recognizing several familiar faces, including our friends from Addressable Media, Creative Associates and Decibel Management, I felt pretty at ease…that is, until it was time to announce the winners!
When NCPRSA President Sarah Lamm walked up to introduce the evening's emcee, Angela Hampton of ABC 11, my stomach was in knots. I couldn't believe it – I haven't felt like that since my middle school MATHCOUNTS competition. But once Angela started calling out the winners, my uneasiness quickly subsided – we won stuff!
It was such a great feeling to repeatedly hear "Clairemont Communications" over the speakers. Our team had put such hard work into every tactic and campaign! All in all, we came home with five honorable mentions, five awards of excellence and four best in category wins, including one Silver Award!
It was a great night for me (and the rest of Clairemont) and is something I will never forget! Now…it's time to start working on 2012's awards!